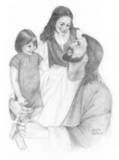 Family Life!

"Who is My mother, or My brethren, for whosoever will do
the will of God, the same is My brother, and My sister, and Mother." (Mark 3:33-35)

I wonder – has that never troubled you just a little? Did Jesus in effect disown His Mother and His brothers and sisters? But let's leave that for now.

If you are like me you have probably wished that we had some record in scripture of those so called 'Silent Years' when Jesus was growing from Babyhood to infancy to manhood?….to have a little glimpse into that wee family home in Nazareth when that lovely couple Mary and Joseph were rearing their family!

We don't have much but what there is becomes all the more precious to us…so I want for a wee while to talk in a simple way about that family and our Lord's attitude to it.

After His immaculate birth we first encounter the Lord in Scripture, when as a boy of just 12y of age He astounds the learned men in the Jerusalem Temple where He astounds them with His wisdom and knowledge.

Then we read how He went back to Nazareth with Mary and Joseph, and was subject unto them, and increased in wisdom and stature and found favour with God and with men.

But after that visit to Jerusalem we hear no more about Joseph, his name disappears from the Gospel record. It is generally considered that Joseph died during the early youth of Jesus?

If this was indeed the case then, as the eldest son, Jesus would bear the financial burden for the family's support until His brothers were sufficiently grown-up. And so Jesus became the Carpenter of Nazareth….some have thought this was why He waited until He was 30y old before He commenced His public ministry? NO!

The Lord had to experience all of life…so that He could relate to His creature man. So He worked as a Carpenter

The marks of His practical craft and His life with poor, plain people are evident in His Parables and metaphors.
· As a Carpenter He could point out the kind of foundation on which a house would be built (Matt. ).
· He would understand the importance of carefully calculating the cost before starting to build. (Luke 14:28)
· As a country boy – He knew about foxes and their lairs, birds and their nests. (Matt. )
· The agriculture of the peasant farmer (customers) was a favourite place for Him to find an illustration.
· As a Poor Boy; He knew the cost of sparrows, sold as cheap food in the market place. (Matt. 10:29)

Widows:
The Lord had a particular soft spot for Widows.
· He'd seen His widowed mother mend garments until they were beyond repair, and no new patches could go on. (Matt. )
· When He wanted to picture helplessness, He pictured a widow who continually pestered a judge with her petitions. (Luke 18:1)
· The widow who cast her mites into the temple treasury; giving a gift worth far more than all the offerings of millionaires in His view (Mark 12:41-44)

But just imagine the happiness of that home in Nazareth as sons and daughters were added, one by one, to the family, this was all in God's plan.

Think how it must have been as they each passed through the various stages of infancy, childhood, adolescence, and then to young manhood and womanhood.

These brothers and sisters had a wonderful role model in their perfect older brother Jesus. They would learn how to be obedient to their parents from Him, they would see incarnate holiness in every stage of their lives together; a perfect example in godly living; what a lasting influence this must have had on them all.

I wonder was there a physical family resemblance/mannerisms?

When we consider the tenderness of the Saviour towards little children, that quality must have commenced in that Nazareth home where Jesus practically became a father-figure to His younger brothers and sisters after the death of Joseph?

· Matthew 18 introduces us to the Lord's thinking about the artless innocence, humility, and sincerity of small children.
· These qualities were valued by the Saviour, they were to Him the best example of the qualities/attitudes needed to enter the Kingdom of heaven.
· To wrong such a small child was a crime for which no punishment would be too severe said the Lord.

In Mark's Gospel, this affection of the Lord for children is shown in a beautiful 'word picture' when 'He took them into His arms and blessed them…' (Mark )

Think how it must have been to grow up with such a perfect big brother! Think how close and intimate that Mary's family must have been! How His younger siblings must have loved Him and looked up to Him. What He must have taught them?

How Jesus must have missed that humble home. The comfort of being at home with His brothers James, Joseph, Simon and Jude, how He'd miss the love of His sisters.

As we consider this thought, that statement of His takes life
'The foxes have holes, the birds of the air
have nests, but the Son of Man has not where
to lay His head.' (Matt. 8:20)

Was the Lord homesick?

When He was welcomed into the home in Bethany of Lazarus and his sisters, this was like the family life from which He had been shut out for so long.

But James and his brothers and sisters did not always believe on Jesus during His lifetime.

Mary, His mother, would remember her miraculous conception, the visits of the shepherds and the wise men. She'd remember Simeon and Anna…and how that wee 12y old boy's wisdom had astounded the learned men in the Temple as He conversed with them. Mary had no trouble in accepting His claims, but even she worried about her son…He was upsetting too many powerful people, what was going to happen to Him?

After the first miracle at the wedding in Cana of Galilee, the family all seemed happy and friendly enough as they travelled with Him and His disciples (Jn 2:12)…when did they begin to distrust Him?

I wonder was it when He returned to His home town of Nazareth and read the lesson in the Synagogue…boy! Did He get everyone's attention at the claims He made…and boy! Were they full of anger and resentment!

Possibly His brothers and sisters shared the resentment of their neighbours in Nazareth (Luke -29).

Then one time when even His friends feared that He was mentally unbalanced, His brothers and His Mother came to try to shield Him by trying to take Him home….this treatment by His own family led Him to assert openly that those who listened to His teachings eagerly and obediently were His real family, He said:
"Who is My mother, or My brethren, for whosoever
will do the will of God, the same is My brother,
and My sister, and Mother." (Mark 3:33-35)

When His family came to call Him away from His mission, He could not avoid a clash! It must have hurt Him deeply, this would be one of the biggest sacrifices – humanly speaking – of His life; what it must have cost Him!

As He looked around Him in that room, He would see His disciples who had left homes and families to serve Him…He knew what that had cost Him…and what it would have cost them!

From that point on, Jesus defined true devotion in terms of being willing to give up one's family for Him.

But this did not mean He was disowning His family.
The lasting devotion, the tenderness, Christ felt for that family of His was revealed when on the cross, midst all the agony He made provision for His Mother…
To Mary – 'Woman behold thy son'.
To John – 'Behold your Mother'. (Jn. 19:26,27)

I often think about James, probably the closest in age to Jesus (always mentioned first!), and what kind of relationship they must have had. He grew up alongside Jesus and saw Him through all those Silent Years. James would possibly know more about Jesus, humanly speaking, than anybody else.

But James was certainly one who had grave doubts that Jesus was the Son of God, as He claimed. James joined with His three other brothers in opposition to the Lord Jesus during the early years of His ministry, sometimes even mocking Him. Even calling Him mad. How this must have hurt the Lord!

Yet in 1 Cor. 15:7 among all the resurrection appearances of the Lord Jesus, we read that 'He was seen of James!'

Then in Acts 1:14, a number of people are recorded as meeting for prayer with the apostles as they awaited Pentecost and the coming of the Holy Spirit; and among them are included 'Mary, the Mother of Jesus, and His brethren'.

Christ must have prayed often for His family…for years they didn't believe on Him, but after His death and resurrection the Lord's prayers were answered and they finally knew Him for who He was.

The conversion of His brothers and sisters should be a real encouragement to those of us who have relatives as yet unsaved.

That perfect life, backed by His attractive wisdom, those wonderful miracles, failed to win them to Him while He was alive.

You see even Jesus didn't win His family during His lifetime…it was not until after His death that they accepted Him as their Saviour and Lord. And James and Jude, two of His brothers, went on to write two of the NT books.

James the Leader:
But why did the Lord make a special appearance to his brother James after the resurrection? (1 Cor. 15:7)

As we've already said James would possibly be the next in age to Jesus, maybe he had accepted the burden of being head of the family when Jesus left home.

The Lord knew that this brother had the strength of character, the honest integrity, and leadership qualities needed for the infant Church in Jerusalem and so James became the acknowledged leader of the Jerusalem Church. How did this come about?

Why was one of the apostles not chosen for this important task, Peter, or John or one of the others? After all they'd spent the last three years in close intimacy with the Lord.

But then, James had spent the best part of thirty years in the company of the Lord Jesus. He'd grown up in the same household, he'd worked in the Carpenters shop with Him.
And I'd love to know what kind of conversations these young lads had as they were maturing… as they shared their thoughts….the wonderful knowledge James was exposed to as he grew up in that home in Nazareth…James would have been exposed to the Lord's thinking on so many things. The Lord would be preparing James for service without his knowing it.

Tradition has it that, after the ascension, Peter, James, and John selected James the Just, the Lord's brother to be the first Bishop of Jerusalem.

Five events show that James was a top figure in the Church.

1. The night Peter escaped from prison, just before he was to be executed, he arrived at Mary's house where many were gathered to pray for him….after calming down the assembled company peter gave this request, 'Go show these things unto James and to the brethren (Acts 12:17) This singling out of James implies that by that time he had become an authority in the Church there.
2. Then immediately after his conversion Paul went to
Arabia for three years, then returned to Damascus. "After three years I went up to Jerusalem to see Peter, and abode with him fifteen days." Paul's main purpose was to get to know Peter better. Paul added that he didn't see any of the other apostles except for James the Lord's brother. (Gal 1:18,19)
3. After an interval of 14y, Paul again visited Jerusalem. On this later visit the leaders of the Jerusalem Church offered Him the right hand of fellowship…the leaders mentioned by name were James, Peter, and John. (Gal.2:1-9)

4. James presided over the great Council in Jerusalem, to settle a very contentious issue (Acts 15), and had the courage and discernment to deliver the final verdict. A decisive decision which would affect biblical liberty for all time, and enable the Church to grow as it did. By taking precedence over the apostles James showed how his authority was recognised in the early Church.
5. After his 3rd missionary journey, Paul returned to Jerusalem and was received gladly by the believers (Acts ). The next day who does Paul visit? It is to James' home where all the elders had assembled.


Chosen Vessels: Can we doubt that this brother of Jesus, who had opposed Him in life. Was just as much God's chosen vessel as was another unlikely man, Saul of Tarsus, the worst persecutor of the early Church.

Though an unbeliever before Christ's death. James must have heard His teaching, many of Christ's sayings, even before His Public ministry would be lodged in James' memory cells.

Some have considered James to be too severe, they point to His letter and say that His emphasis is too much on WORKS. Martin Luther, that great man of FAITH, called James' letter an 'Epistle of straw' when James asserted that Faith without Works is dead…

It has been said that you can't read the book of James without being struck by it's likeness to the teachings of Christ…were some of James words of wisdom really some unrecorded sayings of Christ?

It has been said that if you place the epistle of James alongside the Sermon on the Mount you will find countless parallels. (James there?)

So before anybody tries to disparage the teaching of James he should consider the possibility that he is perhaps disparaging the very teachings of the Lord Himself.

James, of all people, would know that salvation comes by faith. Paul deals with the Root of Salvation which is Faith, while James deals with the Fruit of Faith which is Works.

Paul became the great Missionary Apostle, and James became the leader of that infant Church in Jerusalem, where his teaching and wise guidance over contentious matters allowed that Church to become established and to become an example to all the young churches Paul was planting.
Silent Years:
That the Lord's family was important to Him is seen in the way all His teaching is couched in 'Family Terms'. His Ideal for all humanity is a Family Ideal.
· His dominant thought of God is not as a King, or a Judge, but as a loving Father.
· When He looks at man it was not in terms of friendship but in 'Brotherhood' ….when the Prodigal returned, the elder son said to his father; 'this thy son…', his father told him in response 'this thy brother…' (Luke 15:29-32)

Surely a real lesson for each one of us in this!

Jesus ever saw God as the Father and men and women as Brothers and Sisters in the Family of God. Oh yes that loving family He grew up in was important to Him.

And I believe that Christ's vision for His Church on earth is as just such a loving family.
Adapted from a sermon by my own father.