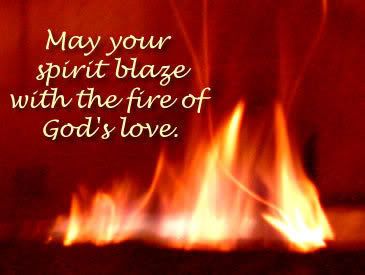 FIRE OF PENTECOST
Let coals of Holy Spirit fire upon your people today,
And let those burning embers fan into flame,
Make us burn with your holiness, Lord have your way,
Lord ignite us, may we be ablaze with your flame.
Burn us with your Shekinah Glory, let it shine through us,
We want you to come and consume every part of us,
Send us another Pentecost that will flood through the nations,
A greater outpouring of your Holy Spirit than previously seen.
We want to be like fiery coals burning for you forever ablaze,
So baptize us with your power from on High, give us boldness,
Revive us, rid of us all fear, for we walk in Holy Spirit Power,
Burst open the Heavens and let your Glory come down this hour,
We want fire, we want fire For you Lord are the object of our desire,
More, more, more, more of you Lord, alight the fire,
Fire of God fall on the nations, north to south, east to west,
And may we in this hour of Pentecost start to give you our best.
Fire of God fall on us, fire of God come fall on us,
Let us burn with fire and passion for you Lord Jesus,
Glory, glory, glory, precious Heavenly glory coming down on us,
Touching down upon each of us where we are in our home town.
We are ruined for anything else but living for you and you alone,
And we come this day longing for another glimpse of your Heavenly Throne,
Holy, Holy, Holy are you Lord,; Worthy, worthy, worthy are you Lord,
And we cry "More Lord," "More Lord" with voices of one accord.
More of your presence, more of your glory Lord is what we crave,
Holy Spirit come in power and bring us another wave,
Let your kingdom come in fullness, may heaven touch this earth,
As we see you Holy Spirit move in power and fires of revival birth.
Irene McGough 2008